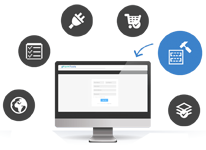 Create beautiful forms
Build beautiful forms, surveys, questionnaires and polls in a flash with Formtools.com. We offer a whole host of features for a seamless experience.
Personalise yours to your branding
Customise your form with our style tools. Tweak our pre-made forms to create something that perfectly reflects your company aesthetic and values. You can even enter your own CSS to add any extra features you need. Upload images like logos and mottos to put your own stamp on your form. What's more, each form you create can be personalised differently – it's time to get creative!
Make multiple pages
When it comes to longer forms, make them more easily digestible for your users by splitting them out across numerous pages. Collect partial results when each page is submitted, meaning you never lose any data when if a user navigates away from your page.
Seamlessly embed forms
Host your forms on your site with no extra coding or programming – simply copy our short code snippet. Combine your embedding with a redirect to take a user from page to page for hassle-free navigation.
To stay compatible with a number of content management systems, platforms and software, we offer a number of ways to embed your form. You can also add security certificates to your form (even if you don't have them across your whole site) to protect sensitive submitted data. No matter how you embed your form, your URL stays the same.
Intelligent form fields
With our form fields, you can calculate a value based on user input. Using either simple or complex equations, you can display the result on the form or store it for further processing.
Versatile toolbox
To give you as much flexibility as possible, we offer over 40 item types to help you fine-tune your form for your exact specifications. They can be configured individually for countless different outcomes, and combined with our reporting for simple tracking.
Collaboration opportunities
Share your forms with sub-users by applying permissions to individual forms. You can hide values by setting them as admin-only, and easily manage access levels.
Responses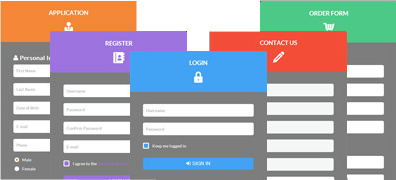 Collate sensitive data
Our forms allow you to use encryption on sensitive data and create forms with SSL for secure submission. We handle registration and maintenance, so you don't have to.
Save and return features
Your users can save results and come back to the form later. Create log-in capabilities and fine-tune access.
File uploads
Users can upload any file type with their results – enabling them to share pictures, videos and pictures.
Link forms together
Share responses across forms and view combined results with our Work Flow feature. This is great for sending follow-up forms.
Responsive forms
Our forms display beautifully across tablets, mobile and desktop. Optimisation leads to smoother customer experience and increased response rates.
Understanding your results
Email notifications to users in the loop
Send custom messages to users and tailor the content to suit your message and branding. You can also send automated reports to your personnel reflecting survey results.
Visual results
To help you get the most out of your collected data, you can choose to view it in a variety of tables, graphs and charts. These are easy to understand, analyse and share with stakeholders.
Import and export your data
Your results will be compiled into a handy downloadable format for safe-keeping or further analysis.
Quickly and easily share reports
Share results across your business, setting different access levels and logins.
Integrate with a range of third party services
You can use your data by linking up your forms with a spectrum of third party providers – from MailChimp to Dropbox.
Easy to understand PDF reports
It's simple to generate PDFs with your results, enabling you to open with Adobe or email to key contacts.
Collecting payments
Create seamless order forms
Automatic totalling, order review pages and security options are just some of the tailored features available for your order forms. Process payments on your own or through a third party.
PayPal, Stripe, Authorize.net and Braintree order forms
PayPal, Stripe Braintree and Authorize.net capability makes it easy and safe for your users to pay. Track payment details with follow-up emails and forward users to a custom page after payment. You can choose to accept both credit cards and checks.